Glass Solutions in Philadelphia specializes in the installation of professionally-fabricated and maintenance-free metal and glass railing systems. Apart from superior customer service, we possess the technical expertise and customer focus required to create premium-quality and reliable solutions for all our deck railing Philadelphia customers. Our projects include simple deck projects to balcony overhangs or integrated components in staircases.
Perfect for any climate and virtually maintenance-free, majority of our glass railing Philadelphia designs incorporate aluminum. Unlike iron or steel that rusts, aluminum is rust-free and being significantly lighter, the stress it places on the structure of your building is comparatively less than other building materials. Glass Solutions also uses an extremely hardy powder-coated paint to finish deck railing Philadelphia projects; unlike wood, this pain will never crack, split, warp, or rot.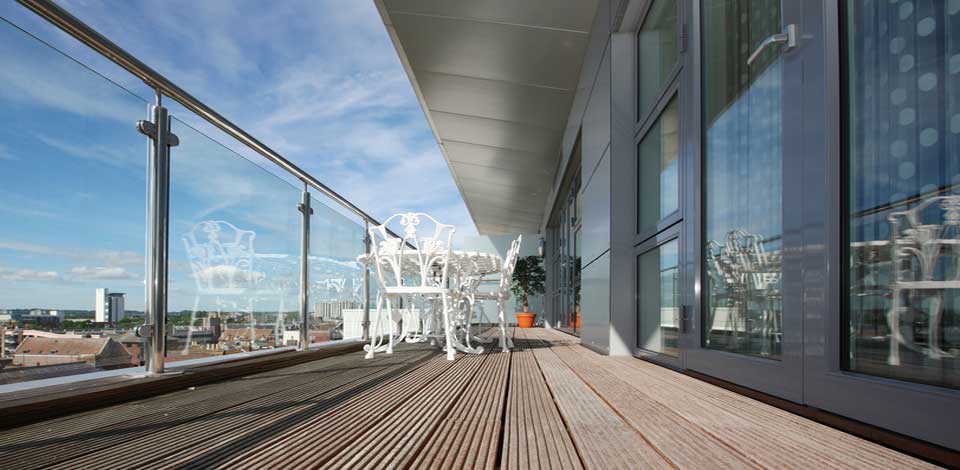 Aesthetically pleasing as well as strong and safe with their powder-coated aluminum extrusions and high quality tempered glass secured within an aluminum frame, our custom deck railing in Philadelphia are renowned for their style and versatility. They bring style, elegance, and durability while offering a less-obstructed view of the surroundings, allowing you to enjoy the scenic beauty around.
Compared to conventional railing products, our glass railing Philadelphia solutions will not only decrease but also eliminate the costs associated with the long-term maintenance of these installations. They compliment any setting and are designed, engineered, and fabricated to meet all structural and construction code requirements for buildings.
Glass Solutions can design and fabricate custom railings for almost any application. With an access to a wide array of different types of materials such as steel, wrought iron, stainless steel, and aluminum, out customized railing systems suit the architecture of your project. If you have a design concept in mind, we would love to hear from you. Contact us today or fill out our online form for a free estimate!